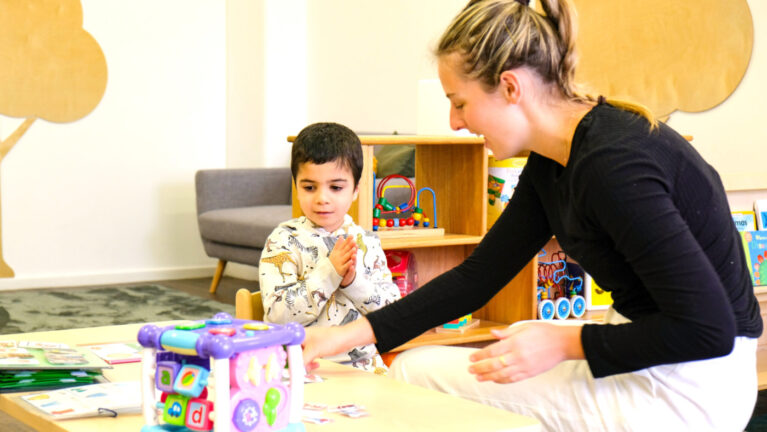 We pride ourselves on the quality of our autism support, our experience, our child-centric approach and our culture of growth and innovation – this is what sets us apart:
Our experience
We've been supporting children with autism and their families for over two decades. You'll find that our team is made up of some of the most accomplished clinicians and advisors in the field in Australia – giving you direct access to unmatched levels of knowledge and expertise.
Child and family-centred approach
The children we work with and their families are central to everything we do at Autism Partnership. Every child we meet is unique. So we work closely with families to develop comprehensive and individualised programs that meet their needs.
The right team
Our skilled, experienced and empathic team put their heart and soul into championing each child. When you spend even the shortest time with us, you'll be hard-pressed not to hear members of our team proudly gushing about a new skill that a child has mastered, or a new milestone they have achieved. You'll quickly see how much we love what we do. And how dedicated we are to the kids!
Responsive and dynamic style
Our style of ABA is flexible and responsive. We adjust our approach to each child and situation as we know this brings about the best outcomes. And, of course, we make it fun! Therapy sessions should be filled with laughter and excitement. Learn more about ABA and our approach.
Culture of growth
To help your child grow and learn, we know that we also need to continue to learn and evolve. That's why we are deeply committed to our teams' ongoing growth and development. Through research, innovation and professional learning opportunities, our staff are provided with the tools to deliver high-quality services for your child.
Global connections
We are part of a global network of professionals, with the fortunate ability to draw from the experience of the founders and pioneers in the field of ABA. Through our network's research arm Autism Partnership Foundation, we also benefit from and contribute to the most contemporary research in the field.
Subscribe to our newsletter
For information about our FREE parent talks, handy resources and all our latest news.