Autism early intervention - your questions answered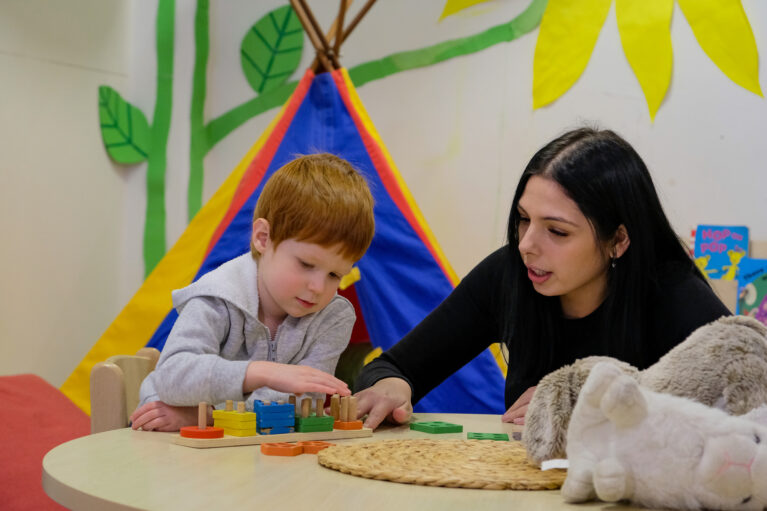 Choosing an autism early intervention program for your child can be an overwhelming process. Karen McKinnon, Autism Partnership's National Clinical Director, explains what early intervention is and how to evaluate different services, so you can make informed decisions for your child.
What is autism early intervention?
When families become aware that their child is autistic, they may speak with professionals about their child's strengths and preferences. They may also explore areas of concern that may be impacting the child's ability to learn and participate in family and community life.  Families often feel the need to quickly get services in place, to enable their child to learn new skills and achieve their milestones.  Early intervention is a term that is used by professionals in reference to early supports provided to children and families as soon as possible after diagnosis, to make the most of the rich window of opportunity for enhanced learning in the child's formative years.
Early intervention for autism can mean many different things, depending on the professional you talk to.  For some, it can mean getting access to a "focused service" that focuses on one key area (e.g., consulting a Speech Pathologist to work on your child's communication goals). For others, early intervention can be "comprehensive", allowing for many different goals to be worked on at one time, by making the most of your child's strengths and helping them achieve a range of essential skills to participate in everyday life.
How much early intervention should my child receive?
The amount of intervention your child receives depends on several important considerations. Families and supporting professionals must consider the child's unique needs and goals, family circumstances and the evidence-base for the different interventions that may be suited.
Professionals currently don't have a consensus view on the exact amount of support that's recommended for autistic children (e.g., 5 hours per week, 15 hours per week, 25 hours per week), but we do have some key Australian guidelines that help us make informed decisions in this area (e.g., Prior & Roberts, 2012: Whitehouse et al., 2020, Trembath et al. 2021).  To come to a decision on the intensity and duration of supports for a child, Trembath and colleagues (2021) recommend:
we acknowledge what's desirable to the child and family
we consider what's practical and fits within the child and family's daily life
the intervention of choice is a logical and reasonable step that is likely to have a positive impact on the child and family
that the professionals involved in supporting the decision have recommended supports that will be efficient and effective.
What type of early intervention might be suitable for my child?
To determine this, you could ask yourself two guiding questions:
How many different things does my child need to learn?
What type of support would my family benefit from to help our child?
If the answer to these questions is that your child and family require assistance within only one or two areas, then a focused service in the specific area(s) of need may be the best option.
However, if the answer is more aligned with "my child and family have so many different things they need to learn, and they are all really important and critical", then a more comprehensive type of intervention may be best. With this option, your child and family will receive support from several professionals with different areas of expertise (e.g., Speech Pathologist, Psychologist, Certified Behaviour Analyst, Occupational Therapist).
It's essential to ensure that you choose an intervention that has been shown to be effective in the research literature.  But that can be tough – there's so much information and misinformation out there!  Two Australian websites can make this decision a little easier for you:
What to look for in a service provider?
Once you've found the autism early intervention that feels right for your child and family, the next step is to find a professional, or team of professionals, to work with.  Given the current demand for services, it's worth putting your name down on waiting lists as soon as possible, to allow you some choice when it comes to selecting the professionals that will work well with your child and family.
The relationship between the child, family and professional team requires trust and collaboration.  The old adage of "go with your gut" may apply when selecting your team of professionals.  You want professionals who are truly aligned with your goals and aspirations for your child and family.
Other important things to consider when seeking professionals for your team include:
Staff qualifications and experience – ensuring your team have the practical knowledge and experience to provide sound advice and strategies.
Openness and communication – professionals who can communicate clearly and respectfully with you, and who will listen and respond to your questions and concerns.
Child-friendly approach – does the professional understand your child and know how to engage them in a fun and effective manner?
Focus on the family – does the professional focus not only on the child, but also support the family?  Are you working together to build skills that will be important both now and in the future?
What can I expect from early intervention?
Your time and energy in researching, selecting and commencing early intervention can transform your child and family's life. We see so many examples of children learning and thriving in everyday life when they participate in early intervention. Similarly, many families also express that they feel empowered with the necessary tools to help their child reach their true potential.
About the author
Karen McKinnon is Autism Partnership's National Clinical Director and is also a Registered Psychologist and Board Certified Behaviour Analyst. Karen has worked in the field since 1995.
*Please Note: The author respects each individual's personal choice to use identify-first or person-first language to describe themselves or their child. In this article,  We use both language conventions interchangeably and therefore refer to both autistic children and children with autism.
References
Prior, M., & Roberts, J. (2012). Early intervention for children with autism spectrum disorders: Guidelines for good practice. Australian Government Department of Social Services. 
Trembath D, Waddington H, Sulek R, Varcin K, Bent C, Ashburner J, Eapen V, Goodall E, Hudry K, Silove N, Whitehouse A. An evidence-based framework for determining the optimal amount of intervention for autistic children. Lancet Child Adolesc Health. 2021 Dec;5(12):896-904. 
Whitehouse, A., Varcin, K., Waddington, H., Sulek, R., Bent, C., Ashburner, J., Eapen, V., Goodall, E., Hudry, K., Roberts, J., Silove, N., Trembath, D. (2020).  Interventions for children on the autism spectrum: A synthesis of research evidence. Autism CRC, Brisbane.
Subscribe to our newsletter
For information about our FREE parent talks, handy resources and all our latest news.