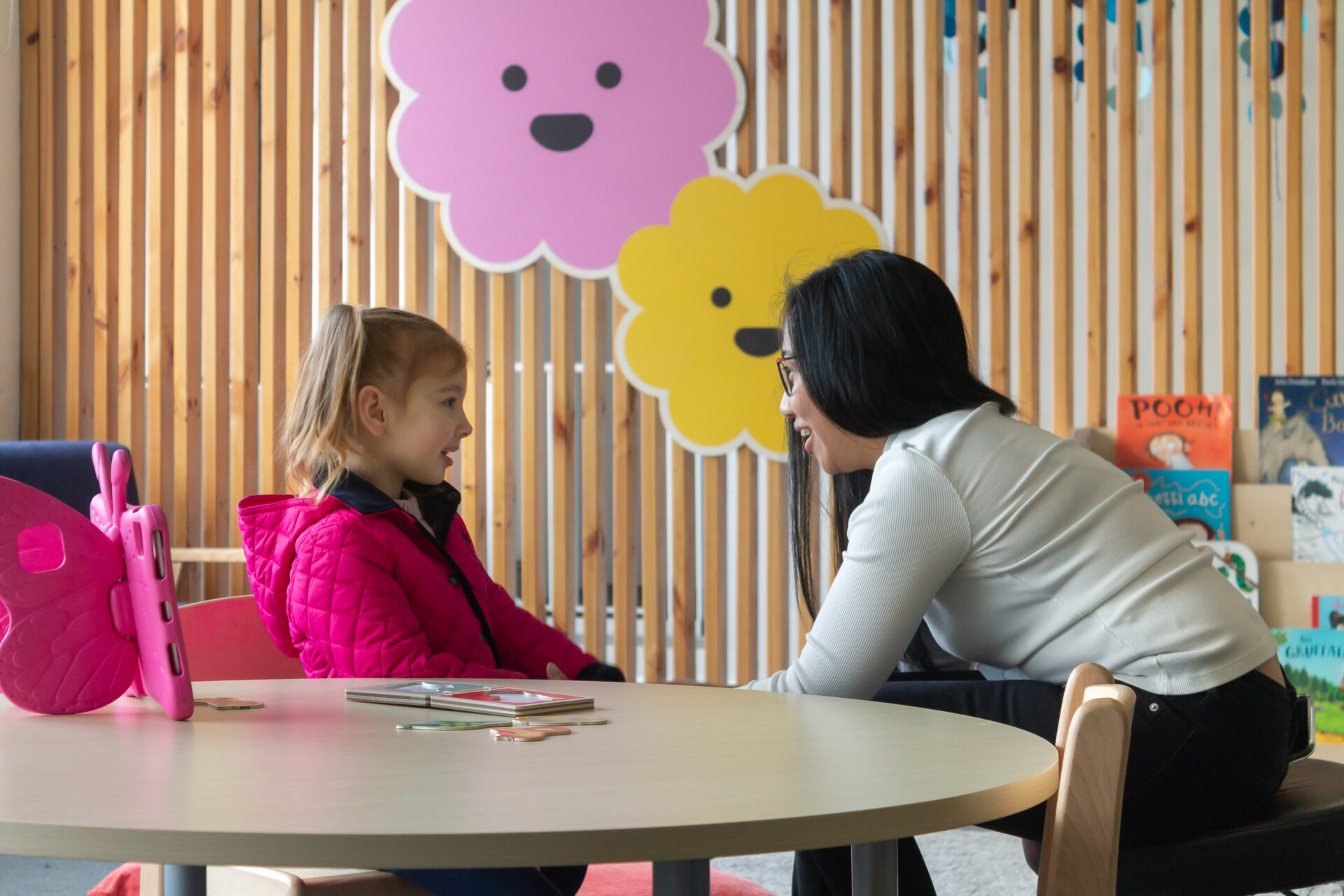 Intensive autism early intervention program for preschool children
Melbourne | Sydney | Brisbane
Little Learners is an intensive autism early intervention program for children aged 2-6 years. It is a comprehensive and highly invidualised program, where learning takes place in a combination of 1.1 and group settings. Children attend for 4/5 full days a week. Learning takes place in our warm and welcoming centre, but can also occur at home and in the community- we are flexible and provide support in the environments best suited to your child.
To find out more, book a no-obligation and FREE telephone consultation today or give us a call on 1300 227 981.
Helping your child thrive
Our Little Learners program aims to provide your child with the best personalised and collaborative intensive autism early intervention and support. So your child has the foundations to grow, reach new milestones and become a life-long learner. Watch the video to take a sneak peek into our Little Learners program.
About the Little Learners program
Education philosophy
Centred on the principles of progressive Applied Behaviour Analysis (ABA)
Curriculum
Individualised to your child
Number of hours
27-33 hours a week
Number of days (intensity)
4 to 5 days a week (with a 9.15am drop off & 4.00pm pick up)
Learning Formats
1:1 and group settings
Centre Locations
Melbourne - North Melbourne
Sydney - Lane Cove
Brisbane - Kelvin Grove
The Little Learners program is based on the principles of Applied Behaviour Analysis (ABA) – an evidence-based technique that has been shown to be effective in teaching children a range of new skills. Learn more about ABA and our approach
We work closely with each family to identify their goals and develop a unique curriculum.
Each Little Learner receives individualised intervention/education based on their specific needs and goals.
Learning takes place through a combination of 1:1 and small group sessions in a fun, positive and nurturing environment.
We focus on teaching your child how to be a good learner – skills they will take with them throughout their life.
We also support your child to develop their social skills and make friends.
Families receive guidance and training on ways to help their child learn and participate in family and community life.
We work collaboratively with educators to support your child when they begin daycare/ kinder.
And we also support your child when they transition to big school!
Is Little Learners right for my child?
Give us a call today on 1300 227 981 or book a FREE consultation.
You will have the opportunity to learn more about the program, discuss if the program is suitable for your child and family and have your questions answered. We will also go through the fee structure, funding opportunities, and the enrolment process!
What we teach
Little Learners is a flexible and child-centred program. So what we teach depends on your child's unique needs and learning profile, along with your family's priorities. Following assessments, we will work with you to prioritise your child's learning goals and develop an individualised curriculum. Our goal is to make learning fun and meaningful!

Developmental areas we focus on
Your child's dedicated team
Every Little Learner has their own dedicated team, made up of highly skilled and trained professionals and paraprofessionals with backgrounds in Education, Psychology and Applied Behaviour Analysis.
Questions?
Give us a call today on 1300 227 981 or book a FREE consultation. Our Family Services Manager will answer your questions and go through the fee structure, funding options and our enrolment process.
Why choose Autism Partnership?
Autism Partnership is a leading provider of therapy and support for children with autism. We have been supporting autistic children and their families for over 25 years. This is what sets us apart:
Our experience – We've been supporting children with autism and their families for over two decades. Our team is made up of some of the most accomplished clinicians and advisors in the field in Australia – giving you direct access to unmatched levels of knowledge and expertise.
Child and family-centred approach – The children we work with and their families are central to everything we do at Autism Partnership. Every child we meet is unique. So we work closely with families to develop comprehensive and individualised programs that meet their needs.
The right team – Our skilled, experienced and empathic team put their heart and soul into championing each child. When you spend even the shortest time with us, you'll be hard-pressed not to hear members of our team proudly gushing about a new skill that a child has mastered, or a new milestone they have achieved. You'll quickly see how much we love what we do. And how dedicated we are to the kids!
Responsive and dynamic style – Our style of intervention is flexible and responsive. We adjust our approach to each child and situation as we know this brings about the best outcomes. And, of course, we make it fun! Therapy sessions should be filled with laughter and excitement.
Culture of growth – To help your child grow and learn, we know that we also need to continue to learn and evolve. That's why we are deeply committed to our teams' ongoing growth and development. Through research, innovation and professional learning opportunities, our staff are provided with the tools to deliver high-quality services for your child.
For more information on our early intervention programs, book a no-obligation and FREE telephone consultation, or call us on 1300 227 981 .
Subscribe to our newsletter
For information about our FREE parent talks, handy resources and all our latest news.